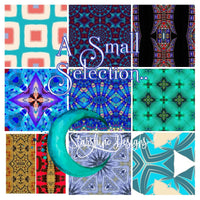 Pattern Designs for Licensing!
Bright colors and bold patterns, inspired by my Synesthesia and Traditional World Patterns & Culture
Life is meant to be lived! That means something different to everyone, and in my world it means exuberance in color, music, decorating and fashion. 
I have several forms of Synesthesia- a wonderful blending of senses that allows me to see music as colors and taste and smell colors. This is what I use to paint and design patterns!
I have always loved the traditional patterns and costume of cultures around the world, and as I see them disappearing, I have incorporated them into many of my patterns to help keep them alive and introduce them to new audiences.
If you are a Buyer, you can click HERE to view my Portfolio of Surface Patterns Patterns are available for Licensing . Please contact me for the Password.
Come in and join my little Universe!
People have literally stopped me on the street more than once to ask me where I got these leggings!

Denise, Denver, CO
"What did I just look at?!? Is that for real your stuff?! YOU ARE INCREDIBLE!!!! "

Kendal, NC
WOW!! These are INCREDIBLY and SERIOUSLY amazing!!!!!!!!

Robbi, Kirkland, WA
I love your designs so much! I've never seen anything like them- they are so colorful and unique!

Cindy, Seattle WA
These are the prettiest Masks I've seen anywhere! 

John, Grass Valley, CA
I just love your leggings! They are super-soft!

Cynthia, Colorado Springs, CO
You are truly a gifted Artist!!!!

Tracy, LIvingston, MT
This is such a great ocean inspired design- fit for any mermaid! 

Wilma, NSW, Australia