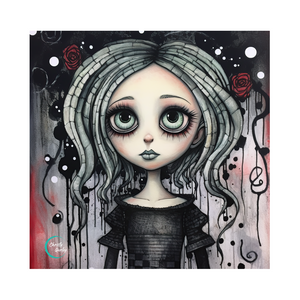 Meet Onyx, a precocious, pale-eyed, silver haired Emo Girl!
One of the Emo Girls series, Onyx leans a bit more towards Goth, with big black lashes and her black, hand created clothing.
Onyx has a different look, still bold, but a bit more muted with red, black and some silvery gray. Her pale aqua eyes really stand out!
Professional prints are printed on Kodak ENDURA professional paper for the highest quality and durability.